The Best Photo Scanners for 2023
The best photo scanners offer a convenient and affordable way to convert your memories into digital images. With a few simple steps, you can quickly turn printed photos into digital files that are easy to store and share. Knowing which features to look for in the best photo scanner can help you narrow down your choices and find the right scanner for your needs. So we will tell you more about it.
Table of contents:
Epson Perfection V600
The Epson Perfection V600 is a powerful and versatile scanner that provides users with the ability to produce exceptionally detailed scans. With its advanced technology and high-resolution capabilities, this scanner offers numerous benefits for both consumer and professional use.
One of the greatest advantages of the Epson Perfection V600 is its ability to produce high resolution quality images. This scanner has an Optical Resolution of up to 6400 x 9600 dpi that allows users to capture intricate details in photographs and artwork, as well as documents. The included software also makes it possible to instantly restore faded photos and correct backlighting problems in old slides or negatives.
The Epson Perfection V600 also features dust removal technology which helps reduce surface dirt and fingerprints. This can be especially useful for those who use the scanner to produce digital copies of documents or photographs. The included Digital ICE technology helps reduce visible scratches, dust, and other imperfections on photos before they are scanned.
Finally, this scanner is compatible with both Mac and Windows computers and includes a Hi-Speed USB 2.0 connection for fast data transfers. This makes it an ideal choice for efficient scanning projects at home or in the office.
The Epson Perfection V600 is a powerful and dependable tool that offers users the convenience of high-quality scans with minimal effort. Due to its advanced scanning capabilities and easy setup, this scanner is sure to meet all your document and image scanning needs.
Plustek ePhoto Z300
The Plustek ePhoto Z300 is an easy-to-use and affordable scanner that offers many benefits.
With its high-resolution scanning, it can capture your photos in a crisp and clear way, making them look as close to the original image as possible.
The scanner's Optical Character Recognition (OCR) feature also allows you to easily extract text from documents for editing or archiving.
Moreover, the Plustek ePhoto Z300 has a fast scan speed of up to 15 seconds per page at 300 dpi, allowing you to quickly digitize your print documents without sacrificing quality.
Furthermore, it supports multiple file formats, including JPEG and PDF, so you can save your scans in any format you choose.
Finally, with its sleek and compact design, the Plustek ePhoto Z300 can easily fit into any workspace.
So many features and benefits make the Plustek ePhoto Z300 an ideal choice for anyone who wants to digitize their photos and documents in a fast and efficient way.
Epson FastFoto FF-680W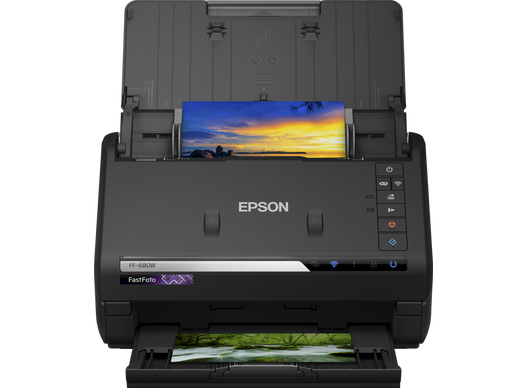 The Epson FastFoto FF-680W is an incredibly useful tool for archiving old photographs.
It is capable of scanning multiple photos at once so you can quickly and easily convert your entire photo collection into digital copies.
You can even use the included software to automatically restore faded colors and improve image quality.
With this device, you will have a secure backup of your memories that are easy to access anytime.
You can also share these digitized images with friends and family via cloud storage or email.
The FastFoto FF-680W also offers advanced features, such as automatic file organization, which makes it easier for you to find the photos you want without wasting time browsing through hundreds of images.
It also features a reprint button to quickly and easily reprint photos onto 4×6-inch paper.
With the FastFoto FF-680W, you can be sure that your precious memories will always be with you and easy to access no matter where you go.
The Epson FastFoto FF-680W has an incredibly fast scanning speed of up to one photo per second so you don't have to spend hours waiting for your scan job to finish. The device uses minimal energy consumption and produces very little noise so it is perfect for use at home or in the office without disrupting anyone around you.
Epson Perfection V850 Pro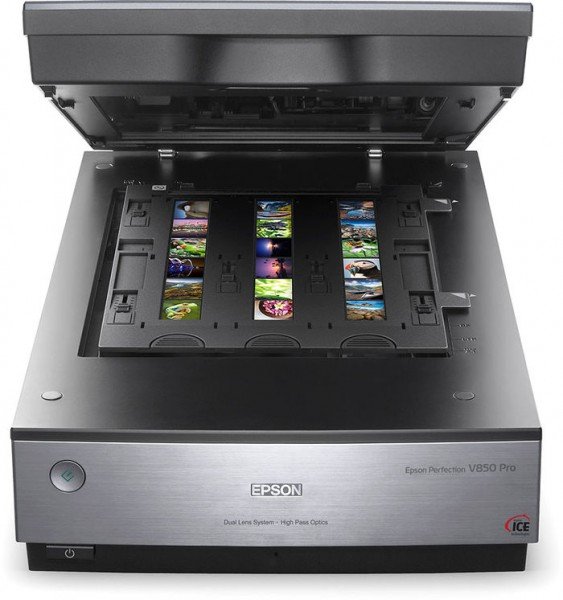 The Epson Perfection V850 Pro offers a range of benefits to enhance any user's scanning experience.
It boasts the highest optical resolution available on the market at 6400 dpi, allowing users to capture even the finest details in their photos and documents.
Moreover, it offers a dual lens system that enables automatic switching between reflective and transparent media for optimal results in both formats.
For added convenience, it is equipped with built-in IT8 calibration for accurate color reproduction, multi-exposure technology for improved tone gradation in dark areas, and advanced dust and scratch removal capabilities.
Its extensive connectivity options make sharing scans easier than ever before as users can connect directly to other devices via USB or WiFi.
The Epson Perfection V850 Pro is an ideal choice for reliable and high-quality scanning.
Canon P-208II
The Canon P-208II is an excellent choice for document scanning needs that offers users a range of benefits. With this scanner, you get high-quality scans with speed and accuracy, as well as powerful software to help streamline your workflow.
It offers fast one-pass duplex scanning at speeds up to 8ipm in color, grayscale, and black & white scans. It also supports a wide variety of image formats, including JPEG, PDF, and TIFF files.
The onboard Auto Document Fix feature helps ensure that you get the best possible output from your original documents by automatically optimizing image quality.
Moreover, it includes text recognition (OCR) capability so that you can easily scan documents into editable text.
The included CaptureOnTouch software allows you to scan directly to your computer, cloud storage, email, or a range of other destinations. It also includes powerful features, such as batch scanning and barcode recognition.
For added convenience, the P-208II is compatible with both Windows and Mac operating systems.
Furthermore, its power consumption has been reduced by up to 45%, making it an even more energy-efficient choice than before.
Overall, the Canon P-208II offers users a reliable and powerful document scanning solution that will help streamline their workflow, while producing high-quality results.
Canon DR-F120
The Canon DR-F120 is an ideal scanner for both professionals and consumers. It is one of the most reliable document scanners on the market that offers a wide range of features that make it well-worth the purchase. In addition to being incredibly fast, the DR-F120 has several other benefits that make it stand out from its competitors.
First, it offers advanced image handling capabilities to ensure that each document scanned is delivered in crisp and clear detail. This includes auto rotation which ensures documents are automatically aligned correctly when scanned, as well as blank page removal and resolution scaling which allows users to customize their scan output quality according to their needs. The DR-F120 also supports a wide range of paper sizes from business cards to legal size documents.
Another great feature of the DR-F120 is its long-life feeder system which allows users to quickly and effortlessly scan up to 100 pages in a single pass. Moreover, it features an advanced ultrasonic double-feed detection system that helps prevent multiple pages from being scanned at once, saving time and avoiding document damage.
The Canon DR-F120 also offers reliable connectivity options, such as USB 3.0 and Ethernet ports, so users can easily connect their scanner directly to their computer or network. Also, due to support for both Windows and Mac operating systems, this scanner can be used with virtually any system.
The Canon DR-F120 can boast high speed, advanced image handling capabilities, versatile paper handling options, long-life feeder system, and reliable connectivity options, so it's no surprise that this scanner is one of the most popular on the market.
In conclusion
All in all, when considering the best photo scanners for your individual needs, the key is to take into account the scanning resolution, scan speed, connectivity options, and software capabilities of each scanner. All these factors will help you make an informed decision in choosing the right scanner for your needs.