How to Turn Your Phone Into a Wi-Fi Hotspot
Wi-Fi hotspots allow you to access the Internet with no need to pay for data access. If you're out and about, being able to connect to a Wi-Fi network can save you money on data. Fortunately, it's easy to turn your phone (or another device) into a Wi-Fi hotspot, allowing other devices, such as laptops or tablets, to connect to the Internet through your cellular connection. We will tell you about several ways to turn your phone into a Wi-Fi hotspot.
Table of contents:
How to Turn Your Android Phone Into a Wi-Fi Hotspot
If you have an Android phone with a data plan, you can turn it into a wireless hotspot. This will enable other devices to access the Internet through your phone, eliminating the need for additional networks or routers. Here are the steps you'll need to take:
Go to Settings on your Android device and select "More networks."
Select "Tethering & portable hotspot" from the list of choices and choose "Portable Wi-Fi Hotspot" or similar option.
Tap the slider to enable the portable Wi-Fi hotspot feature, then tap OK if prompted to confirm your action.
To customize your hotspot settings, you can adjust the network name (SSID) and password.
Once activated, your portable Wi-Fi hotspot will be visible to other devices. Your device's battery power may drain faster when using this feature so it's best to keep an eye on the battery level if possible.
It's important to note that some carriers charge additional fees for tethering and a portable Wi-Fi hotspot so be sure to check with your carrier before continuing with these steps. With that in mind, turning your Android phone into a wireless hotspot is a great way to provide Internet access to multiple devices without needing extra hardware or equipment.
Follow these steps and enjoy sharing your Internet connection with other devices.
How to Turn Your iOS-Based Phone Into a Wi-Fi Hotspot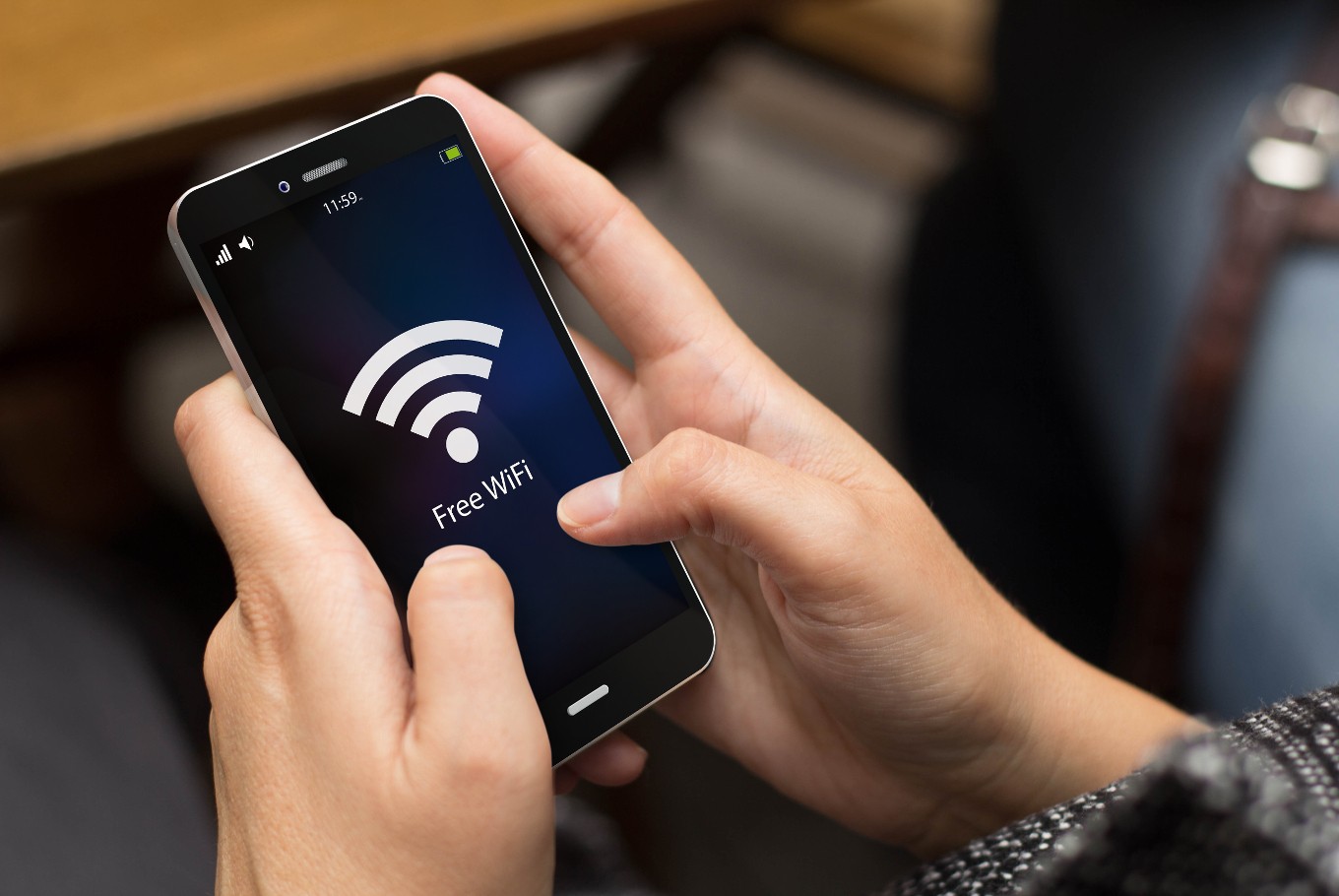 Once you have enabled the Hotspot feature on your iOS-based phone, it's time to connect other devices. This can be done as follows:
Search for and select your Wi-Fi hotspot from the list of available networks on the device that you connect to.
After selecting it, enter the password (if one is required) and click "Connect" or "Join."
Your device should now be to the new Wi-Fi Hotspot created by your iOS-based phone.
You can have any Internet connection over this network, including streaming services, online gaming platforms, and more, as long as both devices are within range of each other. Moreover, some networks may also require you to sign in with a username and password.
For additional security, it's recommended that you change the network name or SSID, as well as the default password for your Wi-Fi Hotspot. This will minimize the potential for someone else without your permission gaining access to your data over this connection. To do so:
Select "Settings" on your iOS-based phone, then search for and select "Wi-Fi Hotspot Settings" and edit accordingly.
Make sure to save any changes you make when prompted.
You should now be able to enjoy an uninterrupted wireless connection.
However, be aware that while most cellular services offer unlimited data plans, many providers cap hotspot usage so be sure to double check your plan details before using the feature too frequently.
How to Turn Your Windows Phone Into a Wi-Fi Hotspot
When you turn your Windows phone into a Wi-Fi hotspot, it allows other devices to connect to the Internet through your network. This can be especially useful when you're traveling and don't have access to public Wi-Fi or another wireless network. Here's how to do it:
Swipe left on the Start screen and choose "Settings" from the app list.
Tap "Wi-Fi and Internet Sharing" in the Settings menu.
Slide the toggle switch next to "Internet Sharing" from off to on (it should turn blue).
Enter an SSID (the name of your network) in the "Name" field.
Choose a security type and password. You have three options: WPA2-Personal, WEP, or Open Security (which doesn't require a password).
Tap on "Save" at the bottom of the page to save your Wi-Fi settings.
Your Windows phone should now be broadcasting its own Wi-Fi network that other devices can connect to in order to access the Internet.
In addition to turning your Windows phone into a Wi-Fi hotspot, you can also use it as a personal hotspot for tethering other devices, such as laptops, tablets, and gaming consoles. To do this, simply follow the same steps listed above but select "Personal Hotspot" from the settings menu instead of "Wi-Fi and Internet Sharing." Then, you can connect other devices to your Windows phone using Bluetooth or USB.
By turning your device into a Wi-Fi hotspot or personal hotspot, you can easily access the Internet with any device that has wireless capabilities.
General Tips on Turning Your Phone Into a Wi-Fi Hotspot
There are a variety of ways to turn your phone into a Wi-Fi hotspot. Here are some general tips that you should consider:
Make sure your device is compatible with your carrier's network and can be used as a Wi-Fi hotspot. Different carriers may have different requirements so it's important to check the exact details before making any changes.
Check with your carrier if there is an additional cost associated with using your phone as a Wi-Fi hotspot. Most carriers offer plans that include data for personal use but they may also charge extra for using it as a hotspot or tethering other devices to it.
Choose a strong password when setting up your Wi-Fi hotspot. It's important to keep your connection secure and prevent unauthorized access to your devices.
Make sure that the devices you are tethering do not exceed the data limit you have set for yourself. If you exceed the data limit, it can cost you extra money or even cause your tethering session to be shut down.
Consider using a third-party app, such as MyWi or Foxfi, to turn your phone into a Wi-Fi hotspot instead of relying on the built-in capabilities provided by your carrier. These apps allow you to customize various settings like password protection and connection duration more easily than with built-in tools.
Monitor your data usage periodically to make sure you don't exceed the limit set by your carrier. If you find that you are using too much data, consider switching to a different plan or reducing the number of devices connected to your hotspot.
By following these general tips, you should be able to successfully turn your phone into a Wi-Fi hotspot and take advantage of all the benefits that come with it. It's important to remember that there may be additional costs associated with tethering other devices so always check with your carrier before making any changes.
In Conclusion
Turning your phone into a Wi-Fi hotspot is an incredibly useful and convenient way to get online without using traditional wired connections. Whether you use it for work, travel, or home, having the ability to create a portable wireless connection can make life much easier.
Setting up a Wi-Fi hotspot on your phone is straightforward and simple. Once it's set up, you'll be able to surf the web, stream videos and music, send emails, chat with friends and family over social media platforms, and more. Just remember to turn off your hotspot when you're not using it so that you don't use up too much of your phone's battery.