How to Find the Best Discord Servers Worth Joining
One of the most important aspects of finding a great Discord server is to make sure it's active. You should ensure that the conversations and activities are happening often, as this will help you find like-minded people and discover new topics or ideas. So we will tell you more about it.
Table of contents:
How to Find Discord Communities Using the Discord Server Directory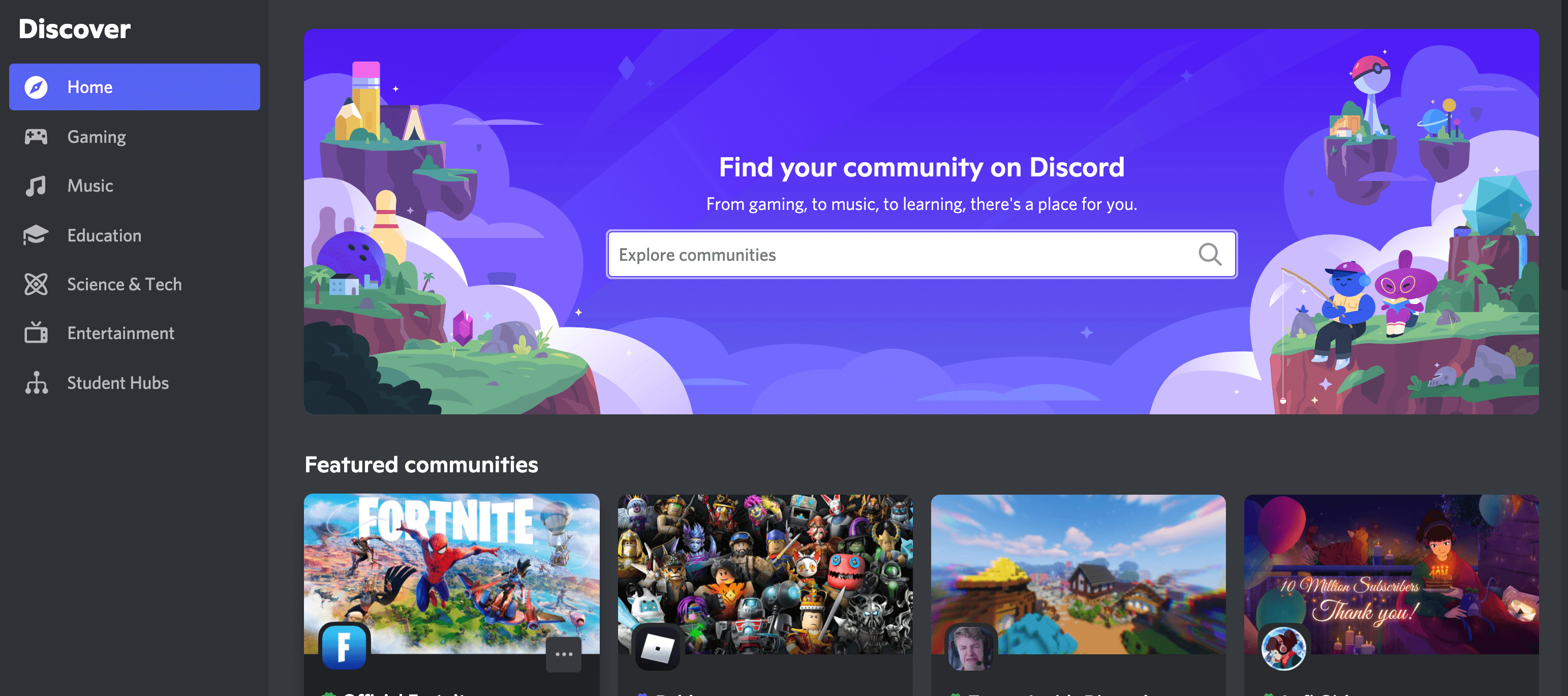 Once you have found the Discord Server Directory, you can begin to explore it. The directory includes several different categories and sub-categories. You can use the search function to narrow down your options or browse through each category manually.
The first step is to select a category that best suits your interests. Some of the most popular categories include Gaming, Art, Music & Audio, Technology & Programming, Anime & Manga and Design & Creative. Each of these categories has further sub-categories which provide even more specific topics related to each main topic. For example, if you are interested in gaming then you could check out the 'Action' sub-category under Gaming for communities dedicated to action games such as Call of Duty, Overwatch and more.
Once you have selected your category or sub-category, the next step is to browse through the list of servers that appear in the directory.
Take some time to read descriptions and look at user ratings as this will help you find a server that matches your interests.
Once you've found a server you'd like to join, click on it and select 'Join Server'.
However, keep in mind that some servers may require additional steps, such as agreeing to rules or providing additional information depending on how those specific servers are set up. In any case, finding Discord communities is simple with the help of the Discord Server Directory.
How to Find Discord Servers Using Disboard
Once you have found a few Discord servers that look interesting, it's time to join them.
To do this, click the "Join Server" button located on the bottom right corner of each server page. Once you have accepted the invitation, you will be taken directly to the server and will immediately become a member of the community.
When joining a new Discord server, take some time to get to know your fellow members and explore all of its features. From there, you can start participating in conversations or working on projects together with other members.
You can also use this opportunity to share your own work or content that you find interesting. As long as everyone abides by the rules and guidelines set out by the server, it's a great way to find like-minded people and build relationships with them.
Discord servers are an excellent place for gamers, streamers, artists, developers, and anyone else who wants to connect with others with similar interests. You can also use Disboard's search function to find specific topics or genres that you may be interested in.
How to Join Servers on Discord Using DiscordMe
Once you have signed up for a Discord account and installed the Discord app on your device, you can join servers using the DiscordMe service.
To join a server on DiscordMe, first open the app and log in with your credentials. Then, click "Servers" at the top of your screen. This will take you to the Server Directory, where you can search for public servers or browse categories such as Gaming, Music & Audio, Art & Creativity, etc.
When you find a server that interests you, select it and click "Join Server" to add it to your list of joined servers.
You will then be able to access features specific to that server such as chat rooms, voice channels, and text channels. You can also use the server's custom emoji, join weekly events, and follow other members of the server with whom you have something in common.
Once you've joined a few servers, it's easy to switch between them by clicking on the "Servers" tab at the top of your screen.
How to Find Discord Servers Dedicated to Your Favorite Influencers
Joining influencer-based Discord servers can be a great way to connect with like-minded fans and gain access to exclusive content. Here are some tips on how to find the right server for you:
Check social media platforms. Many influencers will link their Discord servers directly in their profile descriptions or post them as updates. Be sure to check out Instagram, Twitter, YouTube, and other social media platforms for announcements from your favorite influencers about their servers.
Follow hashtags. A popular hashtag used for finding influencer-based Discord servers is "#DiscordForInfluencers". If you follow this hashtag, you may come across posts from people sharing links to new discord servers.
Ask around. If you're having trouble finding an influencer-based Discord server, don't be afraid to ask around. Try reaching out to your friends who also follow the influencer and see if they know of any active servers. You can also try searching online forums that discuss the influencer in question.
Join communities on Reddit. There are many subreddits dedicated to specific influencers where people can post content and chat with one another. These communities may also have links to Discord servers related to the same influencer.
By following these tips, you should be able to find the perfect server for you and your favorite influencer. With access to exclusive content, fan discussions, and more, joining an influencer-based Discord server can really enrich your fandom experience.
How to Find Private Discord Servers
One of the best ways to find private Discord servers is by using search engines. You can use services like Google and Bing to search for specific keywords or phrases related to your interests, such as gaming, music, art, etc. This can help you narrow down your choices and find servers that are more closely related to what you're looking for.
Another way to find private servers is through the official Discord website. On the homepage of the website, there is a section called "Search & Discover" which allows you to browse through all of the available public and private servers on the platform. Here you can also filter results based on language, category, region, level of activity, and other criteria.
You can also look for Discord servers on other popular social media platforms, such as Reddit and Facebook. There are often posts about new or existing private Discord servers that you may be interested in joining. Moreover, many users post their own invitations to join a private server in the comments section of relevant subreddits and Facebook groups.
Finally, recommendations from friends and family can also go a long way when trying to find private servers. Ask those who already know of some private servers if they would be willing to share an invite link with you – this is usually the quickest and most efficient way to gain access to these exclusive networks.
Now you should have no problem finding the perfect private Discord server for you.
In conclusion
There are a variety of Discord servers to join and it can be difficult to determine which one is the best fit for you. To make an informed decision, consider your interests, hobbies, or activity that you would like to engage in while using the server. You can also look at how active the server is, how many members are participating in conversations, and what kind of topics they discuss.
Once you have narrowed down some potential choices, take some time to read reviews from other users who have had experience with those servers. This will give you an idea of what others think about the server and if it is a good fit for your preferences.
You should also check out any rules that the server may have posted; some servers may have age restrictions, topics or language that is not allowed, and other guidelines. Be sure you understand the rules before joining to avoid any potential issues.